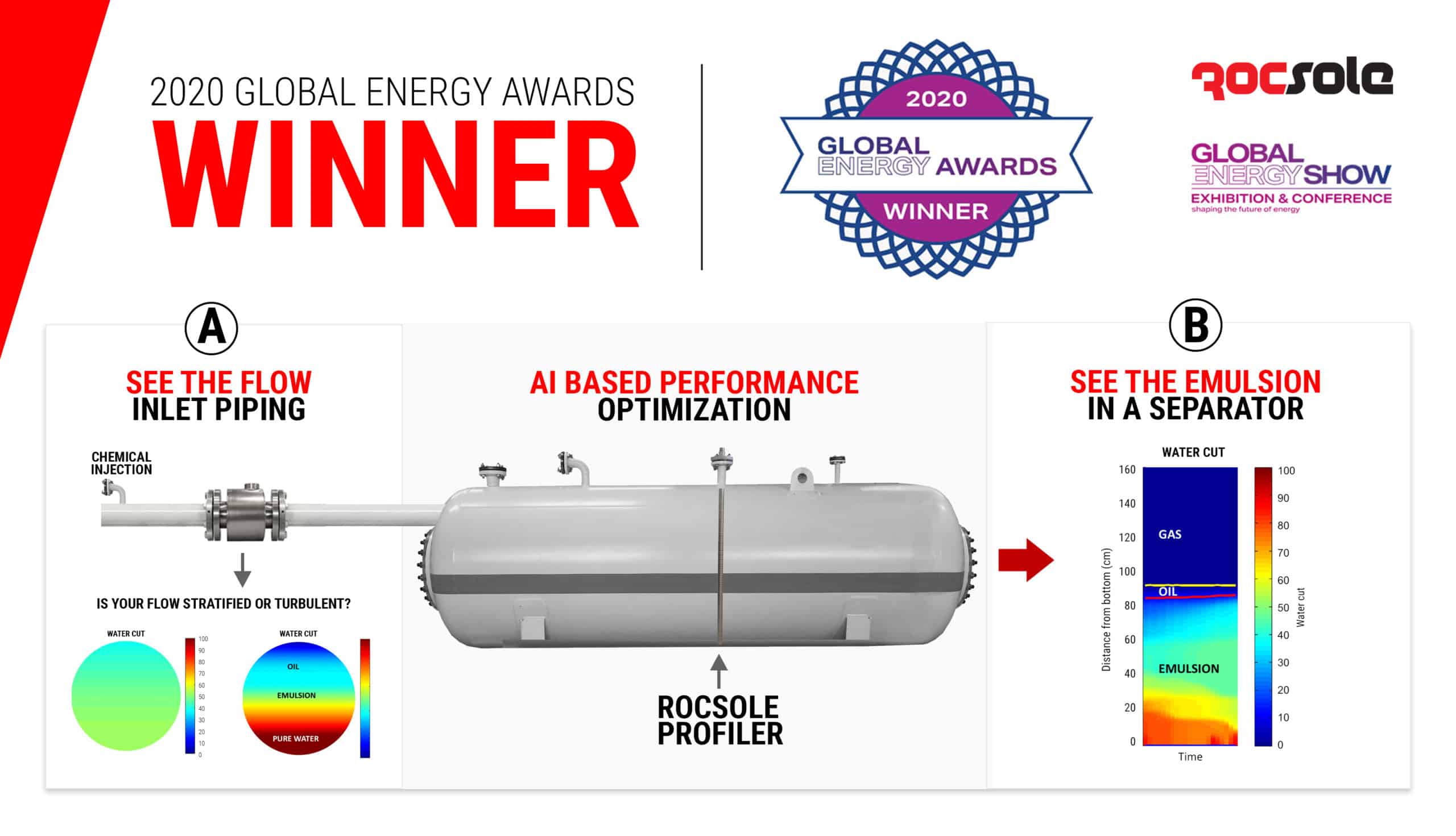 Rocsole is the Winner of the 2020 Global Energy Award for Innovation in Process Control
June 26, 2020
—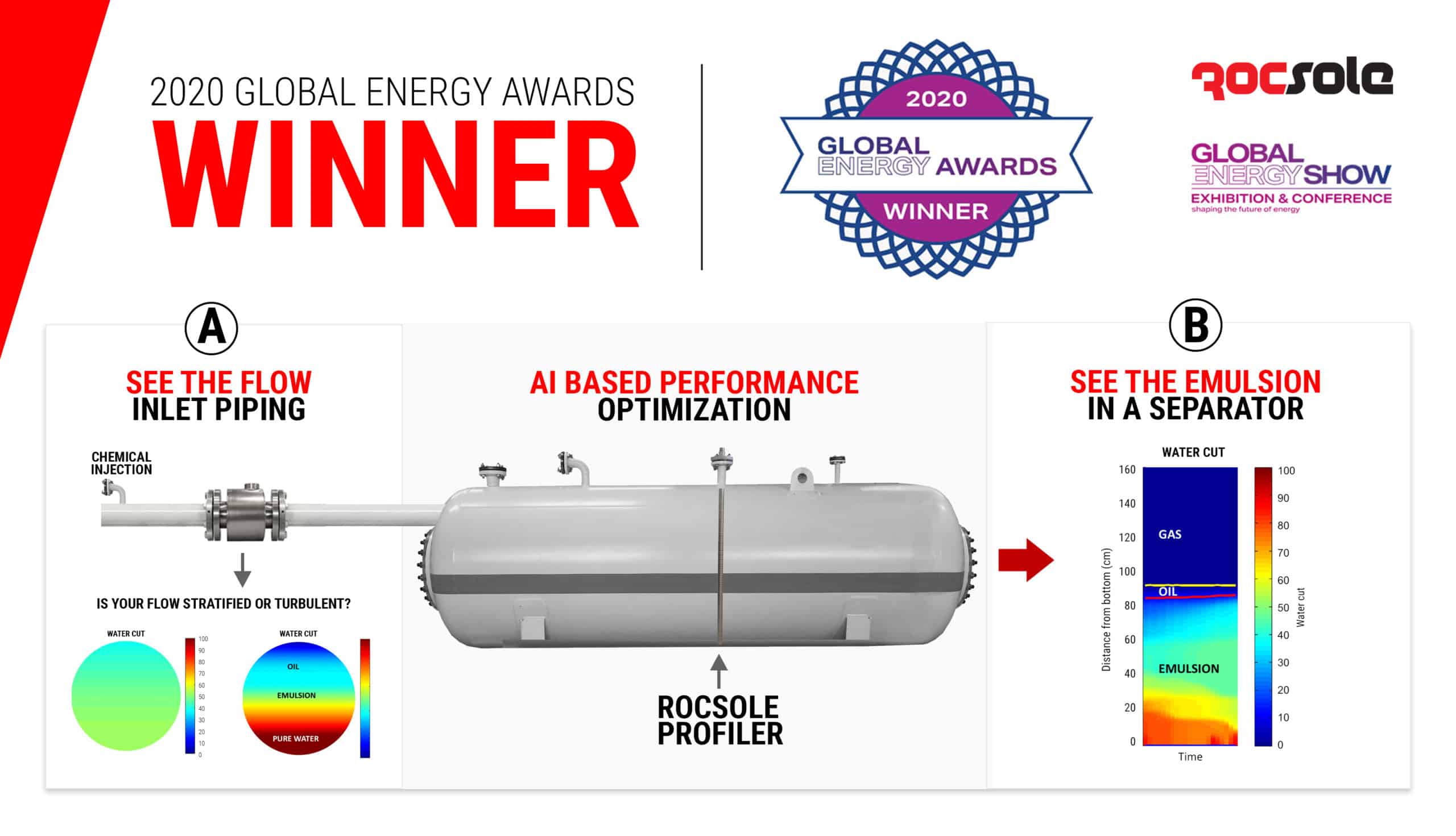 The approach taken by ROCSOLE has been to tackle the difficult and challenging areas of process monitoring to provide consistent and reliable data from flows with solids and deposits as well as emulsion (WiO, OiW) layers. The patented technology is used in pipelines and process tanks where data is gathered many times every second.
"Our technology and solutions are being recognized by a multitude of clients and industries. The value we provide from process data and tomography is changing process industries in general and the oil & gas industry specifically to be able to produce at a lower cost, use less chemicals and have better data to monitor processes and control emissions", says CEO Mika Tienhaara.
With their own sensors and electrical tomography technology ROCSOLE can provide unique value to operations:
• Improve data quality for operational processes
• Reduce operational expenditures
• Provide real-time data for improved production optimization
• Remotely support commissioning and start-up
The savings and gains in profitability we have seen from various projects are many million Euros per year.
The Global Energy Show announces winners of the nine categories of the Global Energy Awards. Launched in 2015, the Global Energy Awards serve to celebrate the leaders who drive change and shine a spotlight on excellence.
The Global Energy Awards recognize and honour accomplishments of companies, individuals, initiatives, projects and technologies on an international scale and promote advancement within the energy industry.
As the Global Energy Show's Awards judging panel states:
The Innovation in Process Control Award goes to Rocsole for their real-time Process Insights Sensor (IOT) and AI Prediction Modeling technology. Their innovative technology uses IOT sensors combined with AI software to support automated, digitized, and unmanned platform operations.
For additional information, please contact:
Mika Tienhaara, CEO, Rocsole, +47 911 11 459
Pekka Kaunisto, VP Sales, Rocsole, +358 40 024 0707
ROCSOLE – See Beyond Technology. Rocsole Ltd is a Finnish high-tech company that develops SEE BEYOND tomographic imaging systems and Artificial Intelligence (AI) solutions. Customers are able to get accurate online data in order to optimize their processes for major savings in operational costs – Use Cases show on millions of Euros in savings. Venture backed by Repsol Energy Ventures, Shell Ventures, and Equinor Ventures Loop funding. Rocsole employs 15 niched experts having sales offices in Houston (TX, USA), Oslo (Norway), Sao Paulo (Brazil), and Kuala Lumpur (Malaysia).
About the Global Energy Show: Leading into the decade with purpose, the Global Petroleum Show has transformed into the Global Energy Show. As the third name-change in its 53-year history, the Global Energy Show is consistently working for the industry, being the key platform where policy makers and leaders make decisions that shape the future of energy. The Global Energy Show is the only platform in North America where all stakeholders, policy makers, key players and industry professionals convene under one roof. Hosted in Calgary, Canada, the Global Energy Show brings Canadian innovation and technology to the global stage.