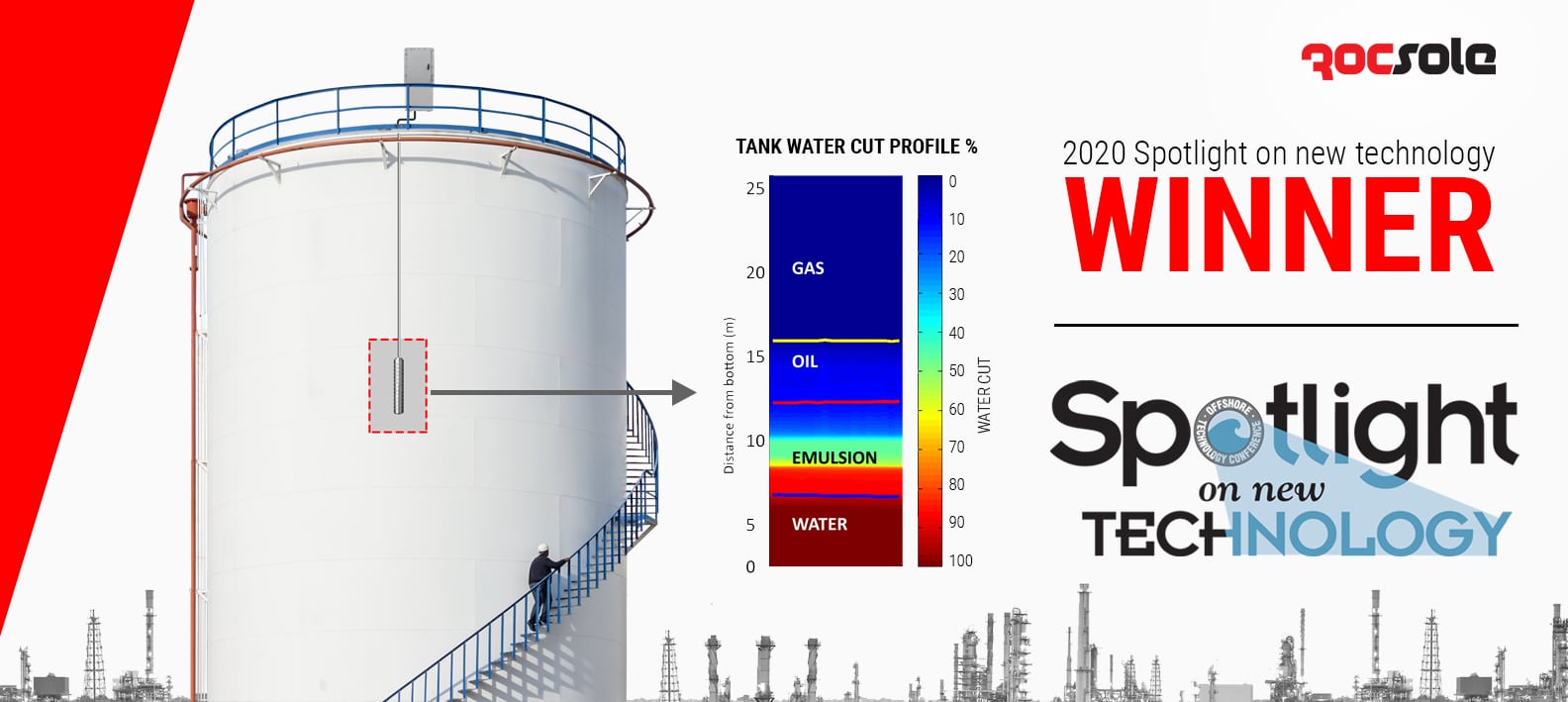 Rocsole wins prestigious Spotlight on New Technology® Award at Offshore Technology Conference 2020 – the patented Liquid In-Tank Inspection product gets industry recognition
May 5, 2020
—
Rocsole Ltd is the first Finnish company that has won the Spotlight on New Technology Award®. It was granted by the Offshore Technology Conference (OTC), the world's largest and most important trade show in the oil and gas sector.
"This is a great recognition to the technology development Rocsole has been working on the past years with a variety of oil and gas customers", says CEO Mika Tienhaara.
The key to this success is the patented Liquid In-Tank Inspection (LITI) product. Tomographic imaging has not been commonly used in the industry for scanning vessels for water, oil, emulsion or gas layers before.
Rocsole has developed a game changing solution that brings various benefits. With the LITI product it is possible to provide full profiles of vessels with no radiation. This means it's safe for both the environment and the user.
The product also brings continuously valuable and trustworthy data of tanks and separators even in very challenging conditions. This gives an advantage in optimizing production in multiple ways.
"The LITI Tank Profiler works just as well as any nucleonic devices, but without the typical cost and risks associated with the use of nucleonic devices. In addition, we provide continuous real-time data meaning that we can provide AI powered predictive analytics for these sub-processes with our capabilities", says CTO Arto Voutilainen.
The LITI Tank Profiler main features are:
Accurate detection of location, thickness and conductivity of different layers
Works with gases, liquids, emulsions, sludge and solids
Continuous data, real-time monitoring
Works even with contaminated sensor surfaces
Easy to install, safe to operate has no moving parts and is field calibration free
Images and trends available through a web-based user interface
The services are preferably offered as a SaaS (Software-as-a-Service) model.
For additional information, please contact:
Mika Tienhaara, CEO, Rocsole, +47 911 11 459,
Pekka Kaunisto, VP Sales, Rocsole, +358 40 024 0707,
Product information:
https://rocsole.com/sensors/tank-profiler
ROCSOLE– See Beyond Technology. Rocsole Ltd is a Finnish high-tech company that develops SEE BEYOND tomographic imaging systems and Artificial Intelligence (AI) solutions. Customers are able to get accurate online data in order to optimize their processes for major savings in operational costs – Use Cases show on millions of Euros in savings. Venture backed by Repsol Energy Ventures, Shell Ventures, and Equinor Ventures Loop funding. Rocsole employs 15 niched experts having sales offices in Houston (TX, USA), Oslo (Norway), Sao Paulo (Brazil), and Kuala Lumpur (Malaysia).
About Offshore Technology Conference, OTC: Offshore Technology Conference, the flagship OTC event, is the largest oil and gas sector trade show in the world. The first OTC was held in Houston, Texas in 1969. In 2017, OTC was ranked the 25th event on the Trade Show News Network 2017 Top US Trade Shows List.